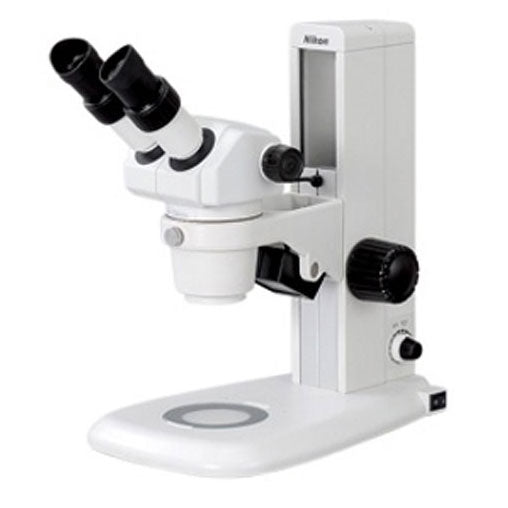 Nikon SMZ445 Stereo Zoom Microscope
by Microscopes Australia
The SMZ445 stereo zoom microscope delivers outstanding optical performance you expect from Nikon's cutting-edge series of stereoscopic zoom microscopes. Porro prisms enable a lightweight, compact design. With 0.8x – 3.5x zoom magnification, and diascopic/episcopic LED Stand, the SMZ445 lets you observe a wide range of specimens, from Petri dishes to plants, insects, small animals and minerals.
KEY FEATURES:
Outstanding Optical Performance
High quality images with superior flatness are achieved by following the optical design and quality criteria of all Nikon's high performance stereoscopic microscope series. The multicoatings on lens surfaces provide clear, bright and high contrast images.
---
Long Working Distances
The long working distance of 100mm allows safe focusing even with specimens having markedly uneven surfaces. This is useful when using tweezers, dissection tools or a pipette during specimen manipulation.
---
Eyepiece Lenses
Dedicated eyepiece lenses with diopter adjustments for parfocality.
---
Auxiliary Objectives
Simply attaching an auxiliary objective lens achieves a wider field of view and longer working distance. Two types are available, 0.5x (WD 181mm) and 0.7x (WD 127.5mm).
---
Mold-Resistant Finish
The inside of the zooming body is treated with a mold-resistant finish. This maintains the quality of the lenses even in hot, humid environments.
---
LED Stand with All-In-One Design
The versatile LED Stand features built-in diascopic and episcopic illumination. The light intensity of each illumination can be adjusted individually, and both can be used simultaneously. The light source uses very bright LEDs. Since they have a very long life, they avoid the cost and trouble of frequent replacement. And while the base is compact and thin, it is designed to be robust for all uses.
Nikon SMZ445 Specifications:
Type: Twin zooming objective optical system
Total magnification: 8x ~ 35x
Eyepiece: SM 10xB eyepieces (F.N. 21)
Zoom range: 0.8x ~ 3.5x (Zoom ratio: 4.4:1)
Illumination: LED
Working distance: 100mm (standard configuration), 127.5mm (AL0.7x), 181mm (AL0.5x)
Eyepiece inclination: 45º
Optical system: True erect image, 12º inner bevel, independent adjustment of right and left eyepieces, and 54 to 75mm interpupillary adjustment
Weight: 6.0kg
Shipping and Handling:
All products purchased from Aunet.com.au will be despatched either same day or next day of your order being received. Delivery within Australia can be expected within 7 working days.