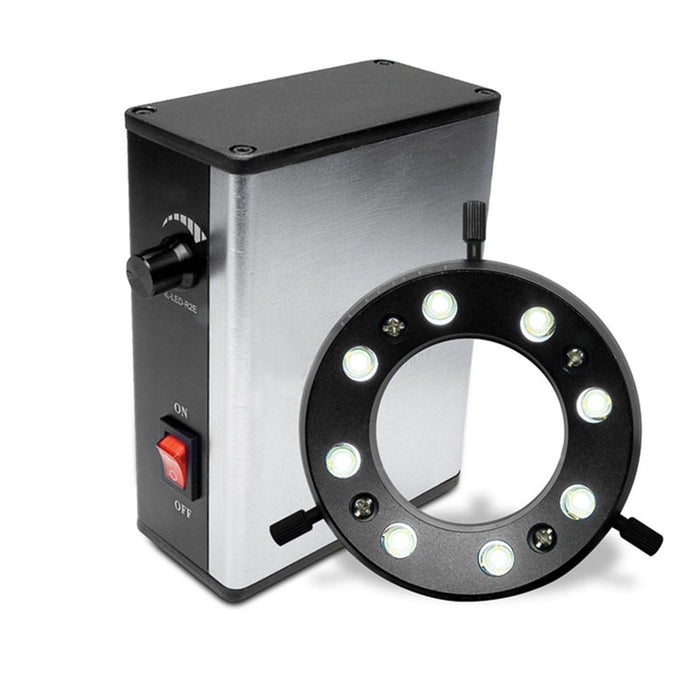 8W-LED Microscope Ring Light
by Aunet
8W-LED Microscope Ring Light
Features:
UV Free
8x 1 watt high quality LED light
Adjustable brightness intensity
ESD safe
RoHS Compliant
Angled lighting for even illumination of LED`s
Optional polarizer available
Lamp life 6000 hours – 6000k-7000k cool white light
LED Ring Lights For Microscopes – 8W-LED Microscope Ring Light
This 8w ring light is the perfect companion to a variety of cameras and microscopes. Offering optimal lighting when additional an light source is required, this 8w-LED Microscope Ring Light has passed through vigorous quality checks to ensure a long life and reliable solution.
The 8w LED Microscope Ring Light is the perfect accessory to many types of microscopes and cameras anywhere additional light sources are required. Featuring eight long life high quality 1 watt LED globes, adjustable brightness intensity and ESD safe.
Optional IL-LED-R2EP Polarizer also available.
Shipping and Handling:
All products purchased from Aunet.com.au will be despatched either same day or next day of your order being received. Delivery within Australia can be expected within 7 working days.