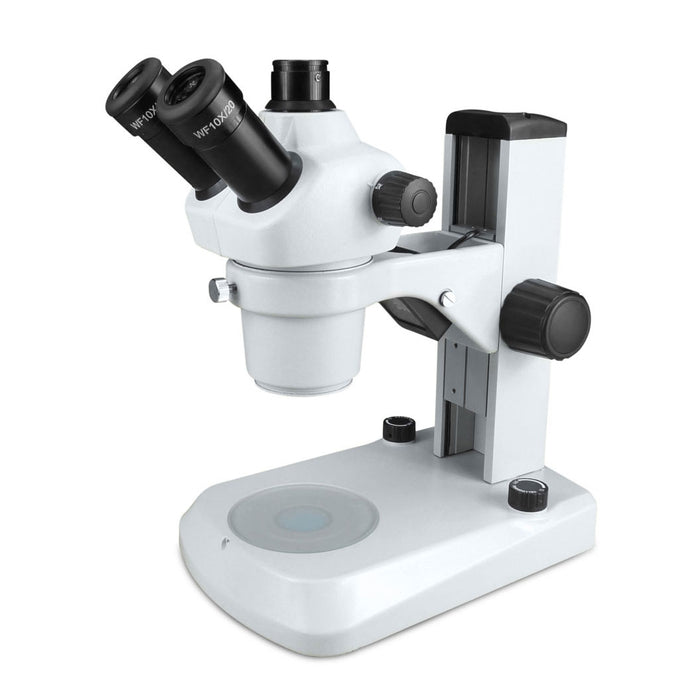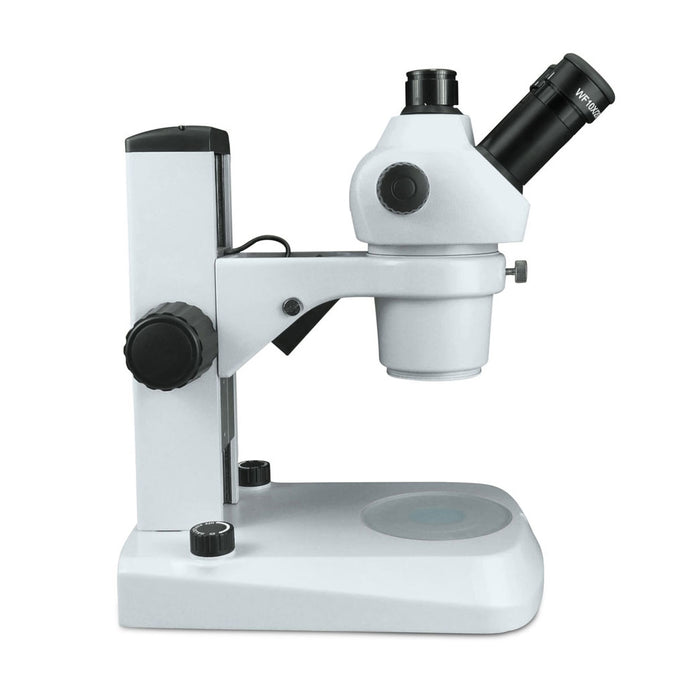 ASZ-200T Trinocular Stereo Microscope
by Luminoptic
Feature-rich yet economically priced, the ASZ-200 stereo microscope series continue to be a favoured choice of serious users in both industry and academic spheres. Designed primarily for 3-dimensional viewing, such as industrial quality control, component manufacturing and inspection, and study of 3D specimens of all kinds, from biological and mineralogical to forensic and numismatic applications. Available in either 10x & 30x or 20x & 40x magnification and binocular & trinocular head configurations if an optional microscope camera is required.
Features include:
Inclined Trinocular viewing head for maximum comfort
10x Wide-field eyepieces with diopter adjustment for larger field of view
100mm working distance, ideal for a wide range of applications
Interpupillary distance adjustment of 55mm-75mm
1x/3x objectives for 10x & 30x Magnification
2x/4x objectives for 20x & 40x Magnification
Adjustable brightness LED-LUX Illumination
An extensive range of accessories are available including LED Ring Light, auxiliary objective lenses, 20x eyepieces & boom stand options.
Our new ASZ-200 Stereo microscope brings you high-performance optics and features – exclusive of the high-performance value tag. Its optical organism is well suited to all manufacturing, electronics, instructive and inspection application. ASZ-200 an ultimate choice for schools and institutes of natural science and teaching, for manufacturing testing and assembly applications, and for excellence manage and inspection
The ASZ-200 series is also well-suited with our extraordinary range of optional mounting and hardware accessories, including boom stand, assisting objectives, eyepieces and LED ringlights. Finally, anti-electrostatic devise features mean the ASZ-200 Stereo Microscope is safe
The anti-dust intend reduces the need for routine maintenance, and anti-mold features maintain lens integrity and quality, even in demanding high-heat, high-humidity environment.Accessible in equally binocular and trinocular head configurations, the inclined head ensure user comfort. This model's latest feature is an LED-LUX LED light, offer equally incident and transmitted illumination and wonderfully .
The preserved microscope body ensures continuous perfect performance whether you use it in a harsh atmosphere or a clean room.
Shipping and Handling:
All products purchased from Aunet.com.au will be despatched either same day or next day of your order being received. Delivery within Australia can be expected within 7 working days.