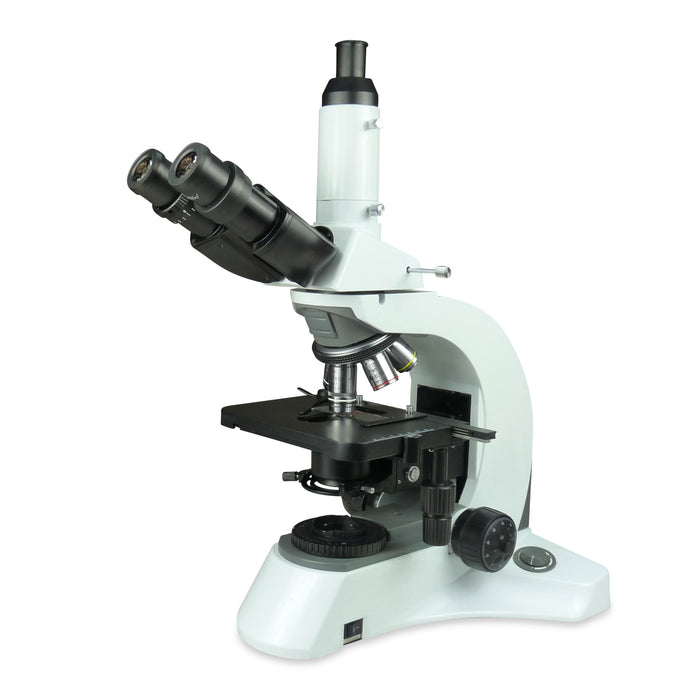 N8000T Laboratory Microscope
by Aunet
N8000T Laboratory Biological Microscope
Premium Grade Trinocular Biological Microscope
The N8000T stands at the top of our range of biological microscopes. First and foremost, the infinity-corrected optical system and infinite plan achromatic objective lenses provide the ultimate in image clarity and resolution – complemented by pupil- and diopter-adjustable, extra-wide-field eyepieces. The LED-LUX lighting system offers even, colour-precise, non-flickering illumination and ultra-long lamp life, without excessive heat build-up. Operator-friendly design and ergonomics mean smooth, comfortable, distraction-free use. An extra-large, dual-level viewing stage is standard, with an optional temperature control stage available for viewing temperature-sensitive living specimens. In addition to its many standard features and accessories, we also offer our widest selection of optional equipment and upgrades for the N8000T – including turret phase contrast kit, dark field illumination (dry or oil), an epi-fluorescent attachment and a host of other options for customised lighting, optics, imaging, and mechanical adjustment. When only the finest instrument will serve, the N8000T is our recommended choice.
Standard Features Include:
Infinity Plan Achromatic Objectives 4x, 10x, 20x, 40x & 100x OIL
360 Degrees Rotatable Siendentopf Trinocular head with interpupillary distance adjustment range of 48-75mm, comfortable operation head inclined at 30 degrees
10x Wide-Field Eyepieces EW10x/22 with diopter adjustment
Backward quintuple nosepiece
Fine & Coarse adjustment
Large XY Moveable Stage 230mm x 150mm
Aspherical condenser and Kohler Illumination
External Illumination 3W LED brightness adjustable.
Swing-out / Sliding-in centerable condenser, optional phase contrast and darkfield centering condensers available
Shipping and Handling:
All products purchased from Aunet.com.au will be despatched either same day or next day of your order being received. Delivery within Australia can be expected within 7 working days.