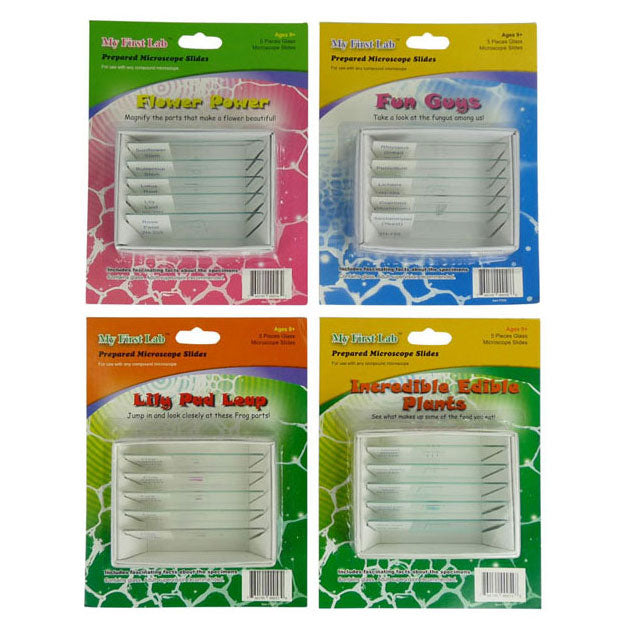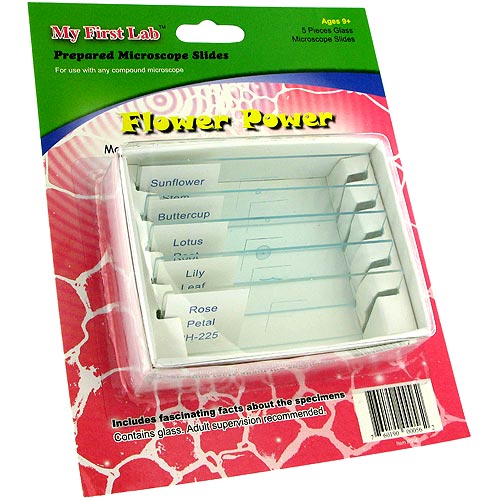 Prepared Slides Set B
by Aunet
Childrens Prepared Microscope Slides Sets
4 sets of 5 slides per box, total 20 slides: 
Incredible Edible Plants
Fun Guys
Flower Power
Lily Pad Leap
Incredible Edible Plants
Set contains five slides…
Onion Roots
Corn Stem
Tomato leaf.
Carrot root.
Rice leaf
Fun Guys Mini Slide Set
Five examples of various fungi, more commonly found than you might think! Sections of molds and mushrooms.
Slides included:
Rhizpous (bread mold)
Penicillum
Lichens
Coprinus (mushroom)
Saccharomyces (yeast)
Flower Power Mini Slide Set
Brush up on your botany knowledge with these five slides from various parts of different flowers including sunflower, buttercup and more.
Slides included:
Sunflower Stem
Buttercup Stem
Lily Leaf
Lotus Root
Rose Petal
Lily Pad Leap Mini Slide Set
Skip the dissecting and use these five slides to examine different parts of the frog.
Slides included:
Frog Intestine
Frog Kidney
Frog Liver
Frog Skin
Frog Lung
Shipping and Handling:
All products purchased from Aunet.com.au will be despatched either same day or next day of your order being received. Delivery within Australia can be expected within 7 working days.